Sometimes in sports (and life) everything can hinge on just one moment. For the Bruins in the Stanley Cup Finals it was the late hit on Nathan Horton in game three  that knocked him out of the series and propelled the Bruins to win 4 out of the next five games as they rallied to win. It was truly amazing because the team had lost two gut wrenching games to start the series and were able to come back and pretty much crush the Canucks.  It all hinged on that one play–one moment.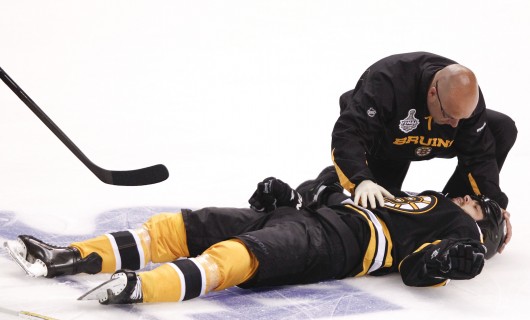 I can remember a few other times watching and playing sports where there was a similar experience. OK, this is not nearly for the Stanley Cup, but the first year we had a team at Saint John's we were able to make the state tournament and were matched up against the top seed, Xaverian High, in the first round.  We were down 2 games to 1 and were 4 points away from elimination, 11-5, and then something miraculous happened. To take that big lead, their big hitter blocked our middle rather savagely — straight down. He then proceeded to posture and dance around the court and gesture to the home crowd, which responded enthusiastically.  We did not appreciate that quite as much, and proceeded to win that game and the deciding 5th game to close it out. That act sparked the team and it all hinged on that one moment. Lesson: Be humble; don't count your chickens before they hatch; let sleeping dogs lie, and so on…
I am not a huge hockey fan normally. I do follow the local sports here in Boston and I follow hockey more to hear the interviews with the coaches and players. I find them the most thoughtful, humble and toughest athletes out there. Compare and contrast an interview with any hockey player and just about any NBA hoop-god — no contest.
So congrats to the Bruins and for the lesson that life can hinge on that one moment.